Adam MacDonald directed my three favorite seasons of Slasher. While I don't know him, I know his work very well. I am constantly telling people to watch this show and get with the program. However, if you're one of the people who hasn't listened to me, then you might know him from the films he's written and directed, Backcountry and Pyewacket. If you haven't seen either of those movies, you might know him from his extensive acting credits dating back to 1998. Credits include Are You Afraid Of The Dark?, Big Wolf On Campus, and The Mystery Files of Shelby Woo. I don't have the words to describe how giddy I was to see this favorite had appeared in the holy trinity of cable shows I watched as a child that were actually age appropriate-ish. 
He's done so many things between then and landing the job of directing my favorite Shudder show. However, I have a gift to ramble on, and IMDB is out there if you want to nerd out with me later. Let's get into this cool list of Adam's favorite horror movies. As usual, it's all bangers and no filler like the other lists, but wildly different.
The Ring (2002)
Where You Can Watch: Netflix and Paramount+
A journalist investigates a videotape rumored to be the cause of multiple deaths. I've only seen the original, but I know anything with this cast deserves immediate attention. Naomi Watts, Martin Henderson, Brian Cox, Amber Tamblyn, and the internet's first boyfriend Adam Brody, don't just agree to do a movie together every day. Even if it turns out to be only half as good as the original, it's worth getting a friend's password to Paramount+.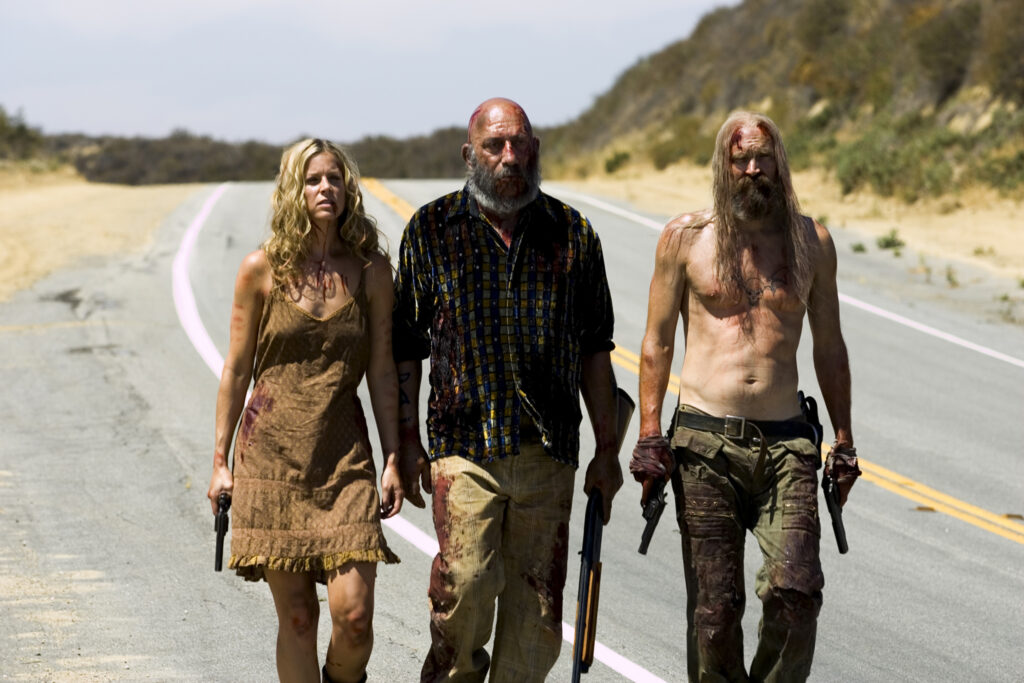 The Devil's Rejects (2005)
Where You Can Watch: Plex, Pluto TV, The Roku Channel, Tubi, and Vudu
A murderous family hits the road with a sheriff hot on their heels. If there's anything Slasher has taught me, it's that families who stalk prey together stay (mostly) together. I'll never know if this was watched for show prep or before, but I'm happy to see a murdering family on the list either way. It just seems right. Multiple people have told me this is the Rob Zombie movie that I should've seen, so I'm not surprised it's here to haunt me on this list. 
The Evil Dead (1981)
Where You Can Watch: Max
Friends head to a cabin in the woods and unleash flesh-eating demons. As any deadite, or horror historian, can tell you this movie reset culture. Once you watch it, you can't unsee its influences in all the cabin horror movies that came after it. There is a reason it made stars out of Sam Raimi and Bruce Campbell. I don't think it's a fluke that it's the oldest film on Adam's list because the fanbase is still rabid, and the franchise is still out there giving new generations nightmares. This is my favorite on the list, and seeing it sent me to sleep with the maggots immediately. You can now marathon the first four movies in the franchise on Max. 
I Know What You Did Last Summer (1997)
Where You Can Watch: Netflix
Four friends mishandle a hit-and-run and then find themselves stalked by a hookman that knows their secrets. We don't have enough Sarah Michelle Gellar representation on these lists. We also aren't putting nearly enough respect on Kevin Williamson's name in the horror streets. I'm happy Adam is doing his part to right both of those wrongs. This movie remains the strongest in the franchise's history so far. Freddie Prinze Jr. has said multiple times he wants to return to the genre. Also, internet rumors of a new IKWYDLS are popping up faster than Billy Loomis' relatives in a much different Kevin Williamson property. So, the story might not be over yet.
The Chaser (2008)
Original title: Chugyeokja
Where You Can Watch: Plex, The Roku Channel, and Tubi
A former policeman running a sex ring finds himself in danger when one of the women goes missing. I put this toward the top of my watch list when I saw Ha Jung-woo is in the cast. I discovered I LOVE Korean horror/ thrillers a couple of years ago and had never heard of this one until Adam. I love when a favorite recommends something that seems hand selected for me. I'm counting this as the first gift of my birthday season. I'm looking forward to seeing how everyone else follows this one.
Adam MacDonald delivered, and I am not surprised. You don't get to helm three seasons of a show as bloody and as cool as Slasher without knowing the genre. If you're not into TV, you should keep an eye out for Adam's next film, Out Come the Wolves. He's currently filming that at the time of my writing this, so I'm super grateful he took the time to answer my nosey question. If you need further proof of how cool Adam is, you should follow him on Instagram and Twitter to see for yourself.