Gabriel Darku is constantly working in the genre somewhere. Most of you might know him from American Gods, October Faction, or The Expanse. However, I immediately think of the Canadian horror series Slasher. This is why I was happy he returned for this season and has a major role again. It's also why I lived my best life when our mutual friend introduced us, so I can ask for this list. I'm a season 3 – 5 stan account and love to see a show that somehow gets better every season. At the time of writing this Slasher: Ripper is cutting its way to the season finale. Much like Darku's character, Detective Kenneth Rijkers, I have no idea who The Widow is. However, unlike him, I would stay out of her way. 
Not only is Gabriel constantly working in the genre, but he also seems to be consuming a ton of it. When he gave me his top five movies, he told me he wished it had been a top eight. Mostly because I wanted to include Us, Train to Busan, and the original IT. Not going to lie, those movies are always the correct choice, and I was tempted to allow a top eight. However, Gabriel chose five that I'm also living for. Again, when you talk to quality people, you get quality recommendations! 
The Conjuring (2013)
Where You Can Watch: HBOMax
Paranormal Investigators Ed and Lorraine Warren are here to clear spirits haunting a family's farmhouse. Anytime a movie is based on real people or inspired by real events, you know it's going to be chaos. This movie was a cultural reset for haunted house movies and raised the bar for supernatural films as a whole. I love The Conjuring and am happy Gabe also understands this is cinema! Cue the Nicole Kidman AMC ad because we know she's staring at Vera Farmiga and Patrick Wilson anyway.
Event Horizon (1997)
Where You Can Watch: Paramount+ and Prime Video
A missing spaceship returns from a black hole with an evil entity ready to wreak havoc on the rescue crew. This malevolent force wanted to test the theory that no one can hear you scream in space. It said screw catching me outside, catch me in the universe. I'm starting to think Gabriel is here for agents of chaos. I love to see it because if we're not going big then what are we doing? That energy was enough to get most of us to the theaters, but the cast Laurence Fishburne, Sam Neill, Kathleen Quinlan, and Richard T. Jones.
Sinister (2012)
Where You Can Watch:  HBOMax
A true crime writer finds a box of tapes that belongs to a serial killer in his new home. Could never be me. I don't believe in taking work home even when it's not the creepy kind of shenanigans. I would have a U-haul in the driveway before my real estate agent could cash my check. This Ethan Hawke gem has been on my list to check out forever. I plan to take care of that this weekend. I also am now asking potential landlords more questions before just casually moving in.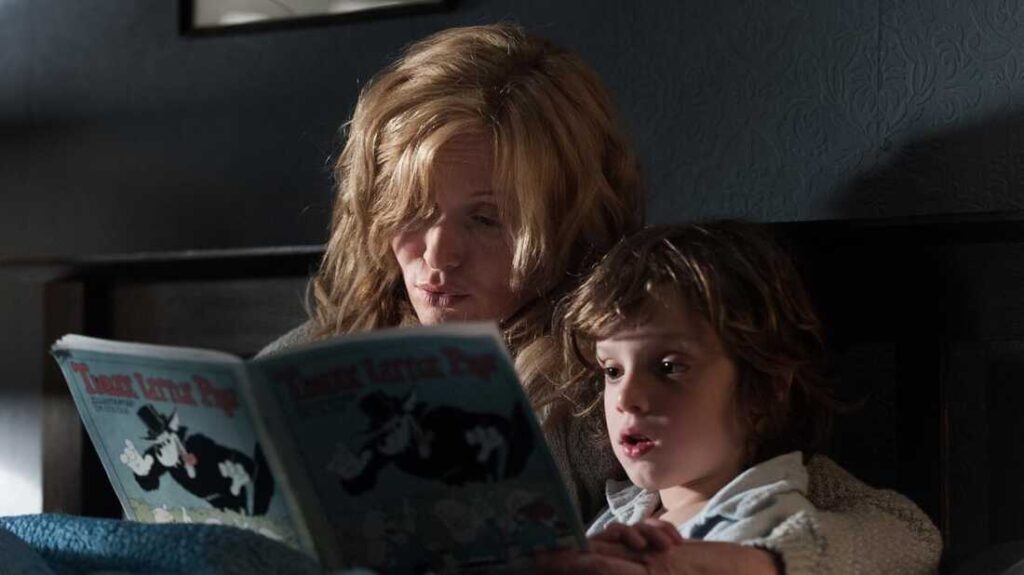 The Babadook
Where You Can Watch: Pluto TV and Tubi
A single mother with a very annoying kid finds herself fighting an evil entity that appears in her home. The Babadook is a "meditation on grief and horror" but it's also a movie about a spirit that purchased audacity in bulk. Old Babs is waking people up at night, fighting the neighbors, and throwing this woman around in her own house. Talk about rude houseguests! This movie is a big popup book brand of chaos wearing a raggedy tophat. It is also one of my favorite movies I have ever seen in theaters.
The Babadook will hit Shudder on Monday, May 15th.
Paranormal Activity (2007)
Where You Can Watch: Netflix, Paramount+, and Pluto TV
A couple finds out their new home has a demonic entity already living there! I'm starting to think Gabriel hates new homes and loves chaos from this list. However, Paranormal Activity is possibly my favorite found footage movie so I'll allow it. This movie seems simple but had me sleeping with the lights on and I haven't been right since the first time I saw it. My spirit has been heavy for over a decade now. This gem also kicked off a whole franchise that has more hits than misses when you look at it in its entirety. 
Another favorite with a list of favorite films. This is the only math I understand! Gabriel Darku loves chaotic but unimpeachable horror movies. This is awesome because he kept this streak of awesome movie suggestions going! When he's not watching quality cinema he is on screen somewhere. Catch him in the latest season of Slasher on Shudder. The full season should be streaming by the time this goes up. Let's hope his character has the best outcome he can get on those bloody cobblestone streets. You can follow him on Instagram and Twitter to keep up with what's next for him.