I didn't know what to expect from Mrs. Davis. I'd seen some photos and felt it would be a sci-fi situation with a nun at the center. However, what this first screener gave me was an off-the-rails action-comedy. This show is fun, fast, and feminine.
The series centers on the epic battle between Mrs. Davis, the world's most powerful Artificial Intelligence, and Simone, the nun devoted to destroying her. Betty Gilpin (GLOW) stars as Simone, the sister trying to shake this AI habit.
Back In The Habit?
Simone is a nun that wants to be left alone. Whatever went down between her and Mrs. Davis has left her wanting no part of the super-powerful and all-knowing program. Mrs. Davis refuses to be ignored, though, and goes to great lengths to get her attention. While the AI has some outlandish and dangerous stunts up its sleeve, Simone seems to be unphased until the program takes everything from her. The pilot does a great job of showing us that this is no ordinary human vs. computer situation. The way Mrs. Davis moves through people, places, and things is so invasive that I was kind of proud of Simone for ignoring her as long as she did. Because we get a glimpse at what a badass Simone is, I'm excited to see what happens if/when they have to battle it out. Because this show is in a world with a magician problem, I think that fight will possibly be the most epic thing to hit Peacock.
Anything Goes
The world of this show is bonkers. We have a nun busting magicians' scams as she ignores an unavoidable AI. We have a sprawling sci-fi, action, comedy, dark, and violent world. This show is so silly and unyielding and never shies away from taking the biggest swings. It's kind of punk in the sense that it's doing its own thing, and while it's inviting us to watch, it's not concerned with fitting into the typical boxes most of us turn to TV for these days.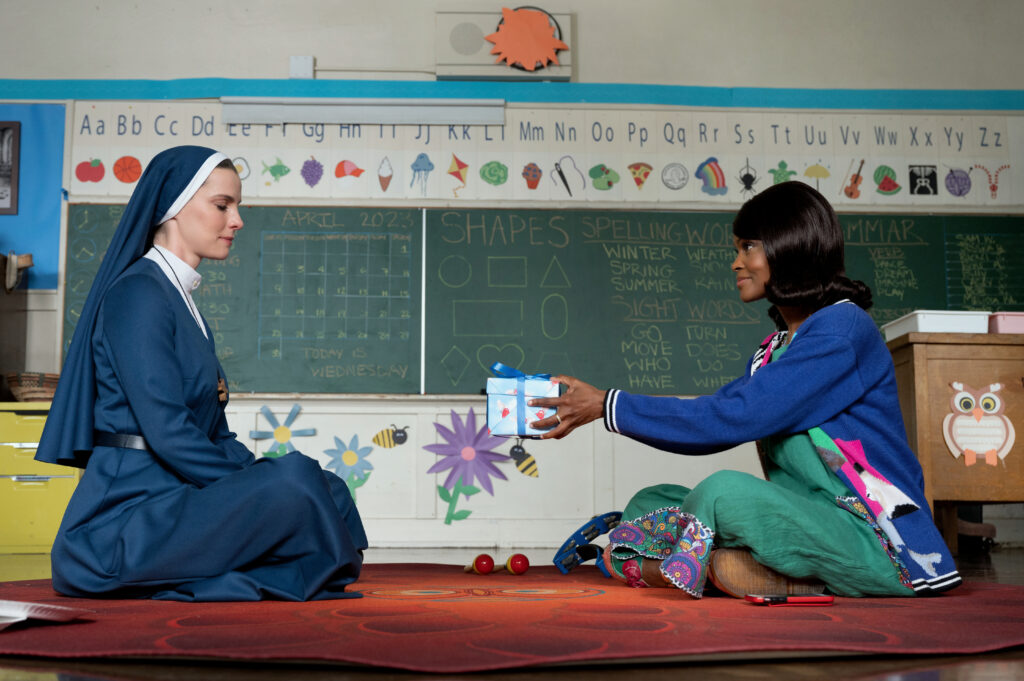 We also have a slew of characters we cannot trust and absolutely no idea where this is going. Because Mrs. Davis comes in off the rails, we kind of just have to enjoy the ride. Which I love because I'm tired of being able to predict where shows are going. This pilot is also fast-paced and has some cool moments that we're not allowed to talk about. However, those things are very cool and result in a lot of ass-kickings. I will probably be begging to write essays once we can speak of the aforementioned cool things. 
At the end of the first episode, I had questions. I was starting to fall for these characters and Mrs. Davis. How often do we see a badass nun in a futuristic setting? How often do we get these kinds of weird but fun moments of danger? I didn't know this flavor of jam was an option, but now that I've discovered it, I'm ready to eat it by the spoonful.
Mrs. Davis premieres on Peacock on April 20, 2023, with four episodes followed by new episodes weekly on Thursdays.
// Want more genre reviews like this one? Check out this review!