Satanic Hispanics!
Okay, so I had trouble saying this out loud ten times fast. I heard that if you said it ten times in front of a broken mirror, then "The Traveler" would appear. Or maybe that's just my sister fucking with me. Either way, this movie is bonkers and I cannot wait for you all to watch it.
Just in time for Hispanic Heritage Month, Satanic Hispanics is premiering at Fantastic Fest and I just want to say, "Me siento muy… excited!" A (mostly) English language horror anthology written and directed by some great Latin American filmmakers featuring lore de la Cultura. Writers Alejandro Mendez, Demián Rugna, Adam Cesare, Lino K. Villa, Shadan Saul, and Raynor Shima weave their five unique tales into one glorious anthology.
The story is recalled by a traveler (Efren Ramirez) with an impossibly long and almost unbelievable past. Almost unbelievable because you know we've been believing this supernatural business since our older primas came around scaring the shit out of us recounting their own tales of seeing La Llorona walking home from band practice that one time. Oh, sorry, that's another story for another time.
The anticipation of watching Satanic Hispanics has been building in me for weeks waiting for this premiere. I will admit I am biased and I make zero apologies. I am a proud Mexican American who's been consuming horror from both sides of the border since I was way too young. My love of the horror genre drives me to the front row for almost every horror and horror adjacent film I can catch. I saw Latinos were behind and in front of the camera of this movie, and I was ready to run to the theater. Ready to run, no actual running because you're not catching me doing any real running even if the zombies are coming for me. Go on ahead without me; I'll be the distraction.
But don't get me wrong, my friends. I'm going on and on about the Latin American pride here, but this film is for ALL the horror fans out there. Settle in for the screams, the blood, the gore, the laughs, and all the "what the fuck?" you can stomach because this movie is a wild ride.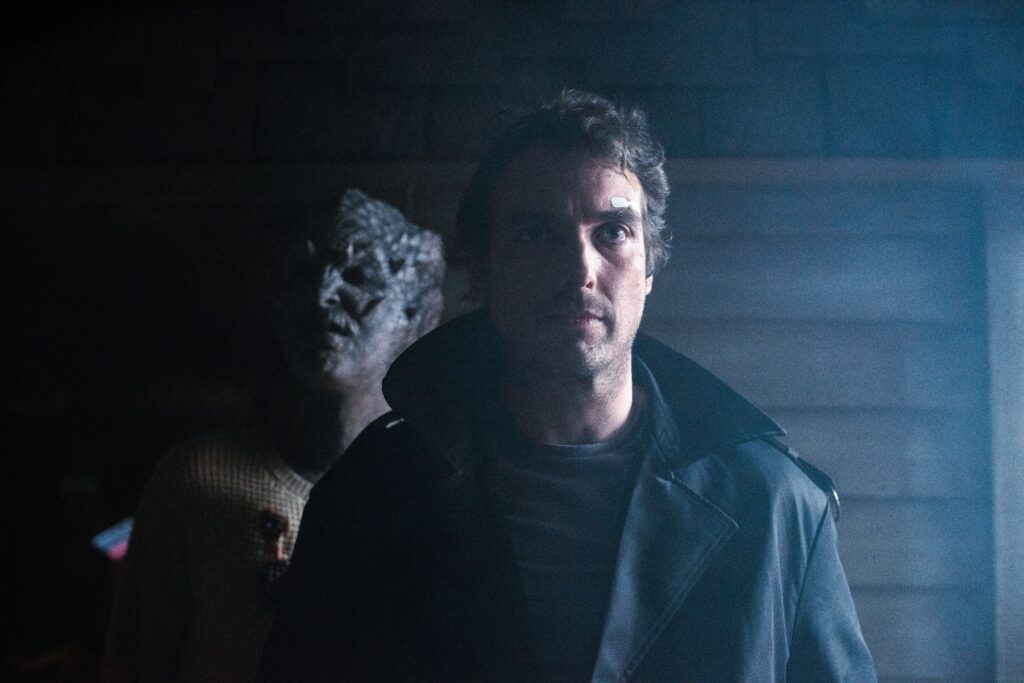 Chapter 1: The Traveler
Directed by Mike Mendez (Big Ass Spider!) and starring Efren Ramirez as "El Viajero."
A police raid uncovers a chained, lone survivor in a home filled with numerous, recently massacred Latinos. Questioned by detectives Gibbons (Sonya Eddy) and Arden (Greg Grunberg), "The Traveler" begins to share bizarre and fascinating stories of people he's encountered. And don't think we didn't catch your cameo there, Gigi (Saul Guerrero). We're watching you, girl!
Chapter 2: También lo vi
Directed by Demian Rugna (Aterrados "Terrified") and starring Demian Salomón as Gustavo.
If you're familiar with Rugna's work, you will not be disappointed by this segment that blends the supernatural and science-fiction to bring you an eerie tale that had me audibly gasping and squirming in my seat. Okay, that's my glasses on and hair in a bun version of describing how I reacted. The fly on the wall would tell you I screamed, shouted "What the actual fuck?!" several times, and continually cheered on the graphic imagery. Who knew Rubik's Cube champions could be the basis of a fantastic horror storyline?
Chapter 3: El Vampiro
Directed by Eduardo Sánchez (Blair Witch Project, V/H/S/2), starring Hemky Madera and Patricia Velasquez as our darling, bloodthirsty vampire couple.
El Vampiro is a comedic homage to old Hollywood vampires with a modern comedic spin. Don't let the comedy aspect fool you, though. This story has so much heart with the vampiric couple and astounding visual effects that I wish I could walk onto this story's set and walk away with a few very specific pieces. You'll know what I mean when you watch this tale.
Chapter 4: Nahaules
Directed by Gigi Saul Guerrero (Bingo Hell) and starring Ari Gallegos and Gabriela Ruíz.
Guerrero brings us a modern tale of the Mexican legend of Los Nahuales people who are enchanted with the ability to transform into their tonal animal counterparts. Present-day political corruption and power-hungry dynamics get the Guerrero treatment here to entertain and visually satisfy your macabre desires.
Chapter 5: The Hammer of Zanzibar
Directed by Alejandro Brugués (Juan of the Dead) and starring Jonah Ray Rodrigues, Danielle Chaves, and Jacob Vargas.
Malcolm (Rodrigues) records a sacred ceremony without permission. Uh-oh, that was stupid. In doing so, he awakens a demon who starts picking off his friends until we get down to a few lone survivors. Check it, though. There is a way to work over this demon to get them off your back, and it is jaw dropping. I could not shut up when we got to the reveal and the ensuing battle because it was absolutely one of my favorite demon vs. human fight scenes in the existence of ever.
Chapter 6: San La Muerte
Directed by Mike Mendez.
San La Muerte, the folk saint of death, has been on The Traveler's heels for a long time, and now it's go time. The final tale in this anthology is beautifully choreographed and visually stunning. Is it wrong to admit that I kind of thought San La Muerte looked pretty fucking badass? I mean, it's just a movie, right? I can say that. No? As glorious and terrifying as San La Muerte can be, that isn't the only image that will be burned into your skull.
Satanic Hispanics is premiering this week at Fantastic Fest. Keep an eye out for this movie because I promise you do not want to miss out. To check out the complete Fantastic Fest line-up and FF@home, head over to https://2022.fantasticfest.com.