If you are like me, you consume genre titles with your oxygen all year round. However, you probably also find yourself swimming in movies with casts that do not reflect the global majority. I'm taking part in @SpookySarahSays's #100HorrorMoviesIn92Days, and even with my main focus being intersectionality in horror, it's hard. I find myself having to pause after every few movies to do some digging to find WOC-led movies that I have not already seen. 
I know I'm not the only person with this problem because this is what most of us are always begging for more of on Twitter. While the numbers are still woefully uneven for WOC leads in the genre, we did get quite a few in 2023. Because I watch way more stuff than most people, I thought I would highlight a few of them for those looking to have less depressing horror marathons this season. 
Gray Matter (2023)
Where You Can Watch: Max
A young woman discovers why her mother has gone to extreme lengths to hide their superhuman abilities from the world. This movie is admittedly more of a sci-fi thriller. However, there's something here, and I love that it was directed by a Black woman. While the script is a bit messy (as are all Project Greenlight scripts), I would've killed to have this when I was a kid. 
Killer Book Club (2023)
Where You Can Watch: Netflix
Eight horror nerds find themselves fighting for their lives against a murderer dressed like a clown intent who is intent on exposing their secrets. This movie was fun and one of my favorite Netflix surprises in so long. The internet was upset that it borrows from 90s slashers, but I think that's part of its charm because we never had Brown final girls in that era.
The Horror Of Delores Roach (2023)
Where You Can Watch: Prime Video
A woman released from prison discovers her old neighborhood has been gentrified, and her old friend has an empanada shop. I love Justina Machado! I also have been saying we need a new Deppless Sweeny Todd: The Demon Barber of Fleet Street for years! I'm literally about to binge and recap this starting tonight, and I'm so damn excited. Also, they're skipping the musical numbers to make it less painful for recovering theatre kids like me. 
Huesera: The Bone Woman (2023)
Where You Can Watch: Shudder
A first-time mother has a hard time finding joy in her situation when a sinister force threatens her and her unborn child. I'm not a big fan of pregnancy horror, but I checked this out because I saw Brown people were involved. It ended up being my favorite of that subgenre! I don't want to ruin it, but we need more movies that aren't pretending that having babies should be an AFAB's main goal in life. 
The Other Black Girl (2023)
Where You Can Watch: Hulu
The only Black woman at a publishing company gets excited when another Black woman is hired. However, the other woman might not be the friend she was hoping she would be. This series reminded me of so many jobs I quit, and so many times I have been the only Black woman in predominantly white spaces. It's genre-defying, but most people find a home for it under thrillers. The more I sit with it, I think it might be one of the scarier series I have watched though.
Missing (2023)
Where You Can Watch: Netflix
A teen stuck in America must use the internet to find her mom, who went missing on vacation in Colombia. They had me at Storm Reid and Nia Long. My main issue is they didn't get enough scenes together because Nia's character had to disappear for that whole plot thing to work. While found footage isn't my ministry, I do like this movie and its sister movie Searching. I think they're both clever, fun, and putting those of us who are usually ignored in leading roles.  
Scream VI (2023)
Where You Can Watch: Paramount+
The Core Four heads to New York only to find a new Ghostface waiting on them. Guess how 75% of The Core Four identifies? Both Scream (2022) and Scream VI give us 3 WOC who are not going down without a fight. As a long-time fan of the series, my main critique has been the lack of representation. So, I will forever be indebted to Radio Silence for finally getting one of my favorite franchises to acknowledge the rest of us exist. Also, so fucking happy they got Melissa Barrera, Jenna Ortega, and Jasmin Savoy Brown on the same project because there hasn't been a fiercer girl group since Beyoncé left Destiny's Child.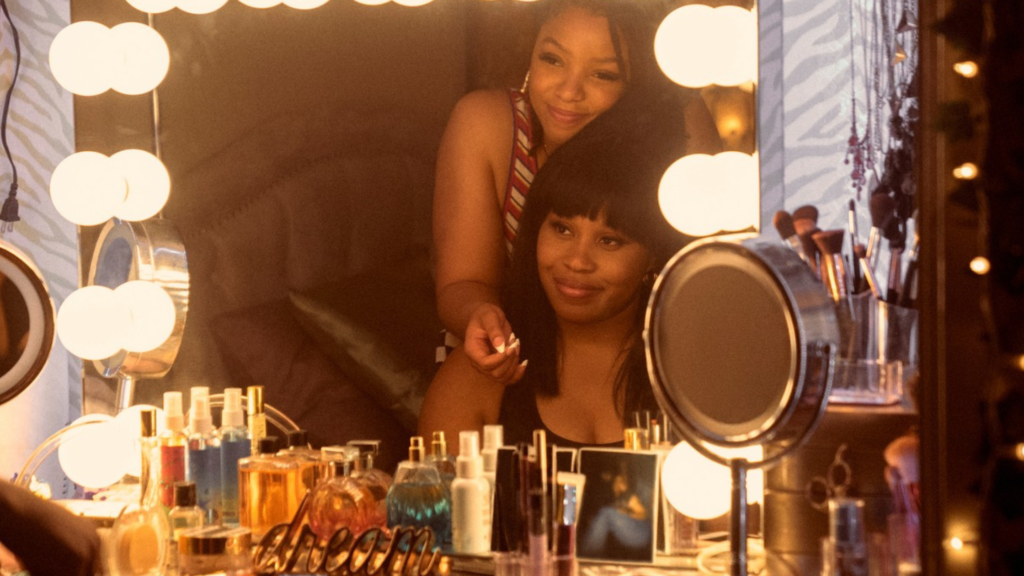 Swarm (2023)
Where You Can Watch: Prime Video
Speaking of Beyoncé, this series follows a fan so obsessed with her favorite R&B star that she will go to violent lengths to be near her. Everyone caught onto the Beyoncé coding and continued to have a good time as we welcomed a Black lady slasher to the ranks. This series is funny, brutal, and awkward, and forces people to stop sleeping on Dominique Fishback.
Talk To Me (2023)
Where You Can Watch: VOD
A group of friends play a dangerous game with an embalmed hand that unleashes terrifying evil entities. This movie is one of my favorites of the year. So, I cheated because even though it's not streaming for free, I want it on everyone's radar. We also have a Black lead who doesn't experience any racial trauma. Her journey is focused on the actual demonic problems at hand…and the occasionally bad choices that all teens make. We love to see it! 
Unseen (2023)
Where You Can Watch: Shudder
A gas station clerk receives a call from a nearly blind woman running for her life in the woods. This movie gives us two WOC leads and has the audacity to be directed by Yoko Okumura. This means we have three WOCs at the top of all the press lists, and one is behind the camera. My drunk ass gave this a standing ovation just because I want to be able to write that sentence so many more times, and my neighbors needed to know that.
If you're a Shudder girl like me, there are two other films you might want to check out. They didn't do it for me, but they have Black girl leads, so I'm rooting for them to find the people who are the audience for them. The Angry Black Girl and Her Monster and Perpetrator were released this year. They can also be easily added to your Halloween viewing when the lack of representation in media makes you want to punch the air.
Did I miss any new WOC-led genre entries that are now streaming? Then please tell me, in case I haven't seen it yet. I need more movies by filmmakers who understand we have more to offer than being discarded sidekicks.