Nay Bever (pronounced beaver) was the first person I reached out to when Nightmare on 5th St greenlit this series. While I'm obsessed with all of my favs, I don't understand doing a thing if Nay isn't going to be there. I would've understood if everyone else had withheld their list until proof that Nay was going to make an appearance, to be honest. I have been a Nay stan since 2020 when I hit play on a Comic-Con Panel where one of my other favorites was speaking. 
While I was adding Nay to the list of people I wanted to bother for stuff some day, and following her on all the socials, I also got the idea for my first horror podcast, A Nightmare on Fierce Street. Which ironically, provided me an excuse to bother Nay for many reasons. Nay is always funny, gracious, and working on something cool at all times of the day. So, of course, I needed to know if Nay's five favorite horror movies were as equally iconic as she is.
Candyman (1992)
VOD
Were you a child in the 90s if you didn't watch Candyman and talk one of your siblings into saying his name five times while you waited to see what would happen to them? The way Tony Todd made history, and left us counting how many times we say Candyman on our fingers is a moment. Most of us were too young to realize this would be the only time we'd see a Black man carrying a supernatural slasher franchise. This movie is also based on a Clive Barker story which is like adding an iconic cherry onto an iconic sundae. 
The Changeling (1980)
Peacock, Tubi, and Vudu
I love that this one is on Nay's list because I think it's better than The Shining and that we don't talk about it enough. George C. Scott gives an amazing performance of a man grieving while trying to figure out why his new home is haunted. It's serving sophisticated, chaotic, twisty, period-piece realness, and I'm here for it. My favorite sub-genre is white men running amok and having to be collected by other white men who are genuinely horrified by their brethren's behavior. This movie gives that while also being creepy and haunting. 
Hereditary (2018)
HBOMax
When you say A24, I say Hereditary. If you're going to put an A24 movie on your list of favorites, then there is only one correct answer. The fact that Toni Collette did not win all of the awards still has people rightfully upset. Also, her supporting cast included Ann Dowd, who lives for characters who are up to good. This movie messed us all up and depicts grief so palpable that it feels like a weighted blanket we cannot get out of. We can laugh about the girl meets pole memes, but this movie hit us in the chest, and we've never been the same again. Nay is not here for light and breezy movies. I'm crying in the corner but still going on this ride.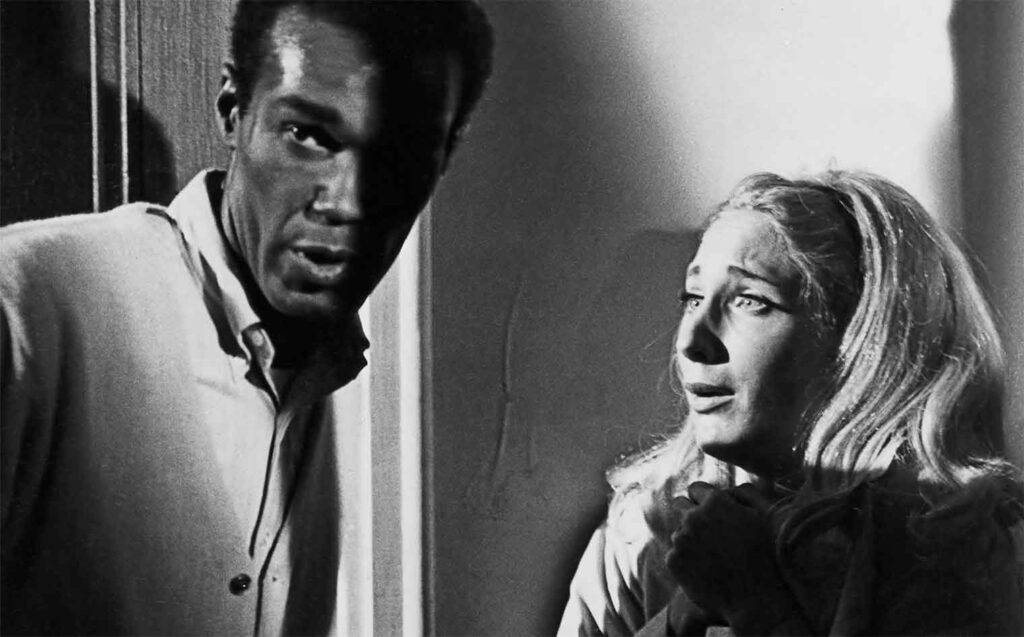 Night of the Living Dead (1968)
Amazon Prime, Epix, HBOMax, Paramount+, Peacock, Plex, PlutoTV, The Roku Channel, Starz, Tubi, and Vudu
This is possibly my favorite George A. Romero film and probably my favorite 60s horror movie as well. Happy to see it on Nay's list because this movie is what got a lot of people into the zombie game. It's also another iconic film in regards to Black male leads in the genre, which we're still not getting that many of in 2023. We didn't deserve this award-caliber performance from Duane Jones, but happy he gave it to us anyway. It's always streaming everywhere, so it's also a good one to make friends who aren't here for the blood and guts of tons of the more current zombie films watch.
The Taking of Deborah Logan (2014)
Amazon Prime, Tubi, and Vudu
I watched this for the first time last year, and it messed me up. A found footage crew follows an elderly woman right into hell. When we find out it's not a battle with Alzheimer's disease this woman is losing, all hell breaks loose and this movie becomes a demonic rollercoaster. Nay knows where to find the chaos, and I am here for it. If nothing else on the list signified that Nay didn't come here to play with us, then this movie screams it as it eats children. This movie left me afraid of y'all's mawmaws but looking forward to the shenanigans I might get up to if I make it to 70. A gem if there ever was one. 
Because Nay Bever is an icon, it makes sense that this list is also iconic. Nay stays busy, but you can listen to the amazing podcast she co-hosts Attack of The Queerwolf!, which has enough older seasons to give us serotonin boosts while we wait for the next special episode to drop. You should also watch the Queer for Fear: The History of Queer Horror docu-series on Shudder, which Nay co-produced with some of my other favorite people working today. You can also find Nay on Twitter, and Instagram, and you can see Nay's art at @gaudylosangeles.
// Looking for more movie recommendations? Check out this list!